How to organise large scale public events during a global pandemic
10 March 2021
• 0 Comment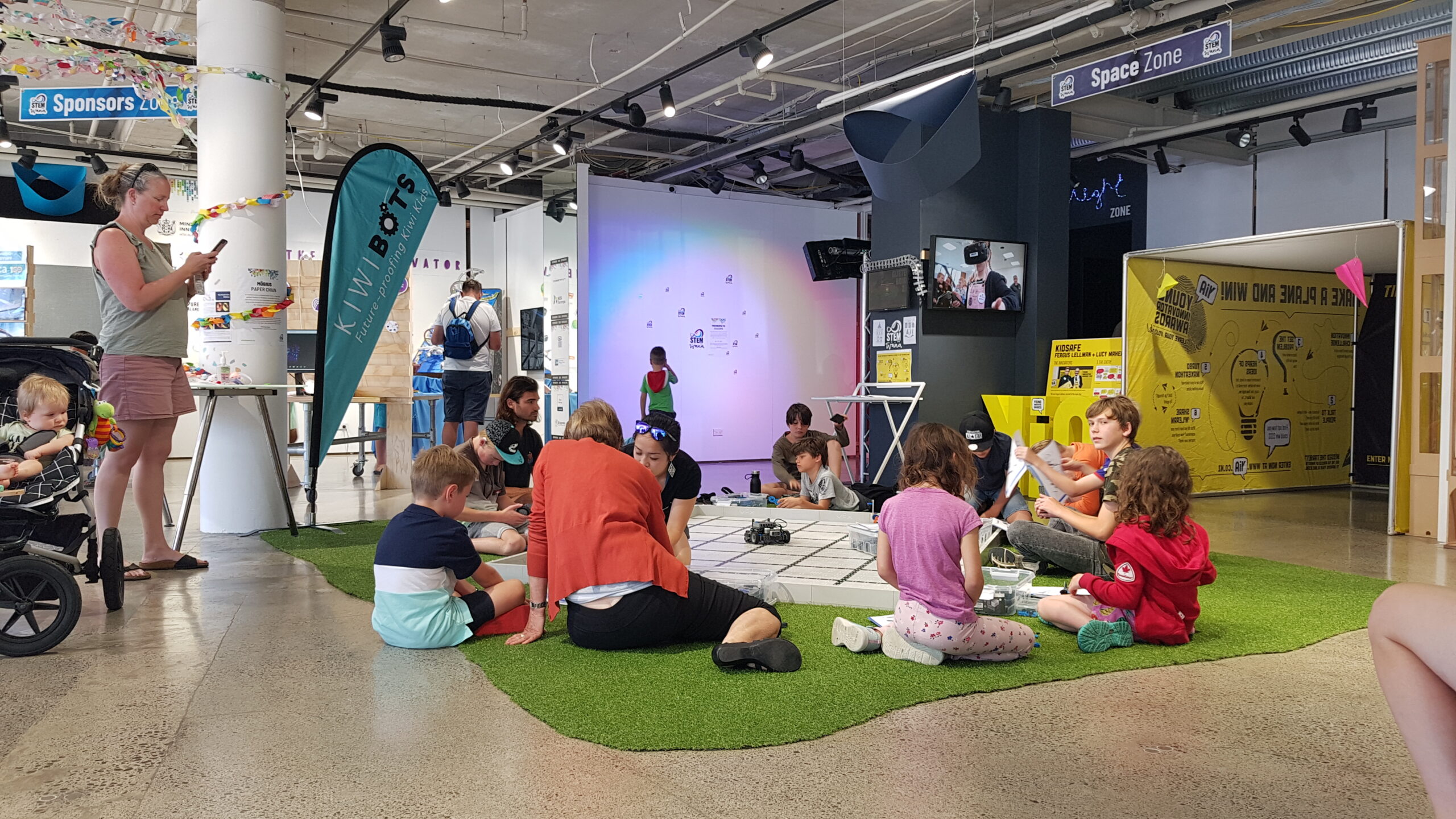 2020 STEM Initiatives Review
At the start of 2020, like many organisations we started our planning for an ambitious year ahead. Our focus was going to be the delivery of a bigger and better STEMFest.
And then a global pandemic stuck and everything ground to a literal halt.
March saw our team, led by Tia and Alyssa, working on re-imagining what a mass event would look like without the mass crowds. During the first major country-wide NZ lock down we worked (remotely) and connected with new people and organisations. We prepared new concepts and pitched ideas around STEM engagement and continued to work on the basis that we would be soon out of lock down.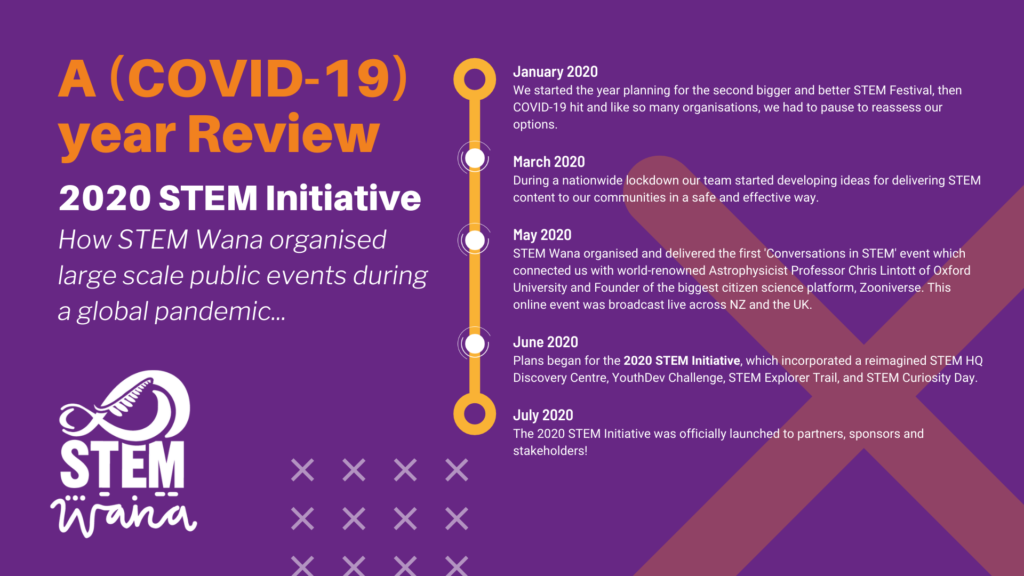 It's a real testament to the dedication of the team that we delivered our first Conversation in STEM event in May which was online with viewers from all over New Zealand and the UK participating.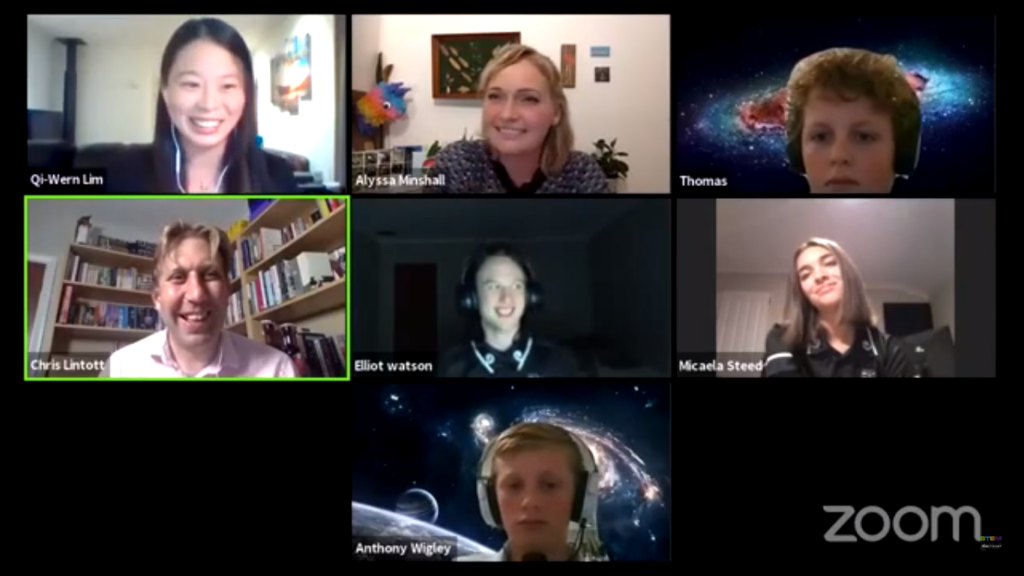 It was an exceptional and challenging year for everyone concerned, but STEM Wana persevered with our mission to promote and inspire a new generation in STEM and despite COVID-19 we were still able to deliver accessible STEM engagement to our community and whānau.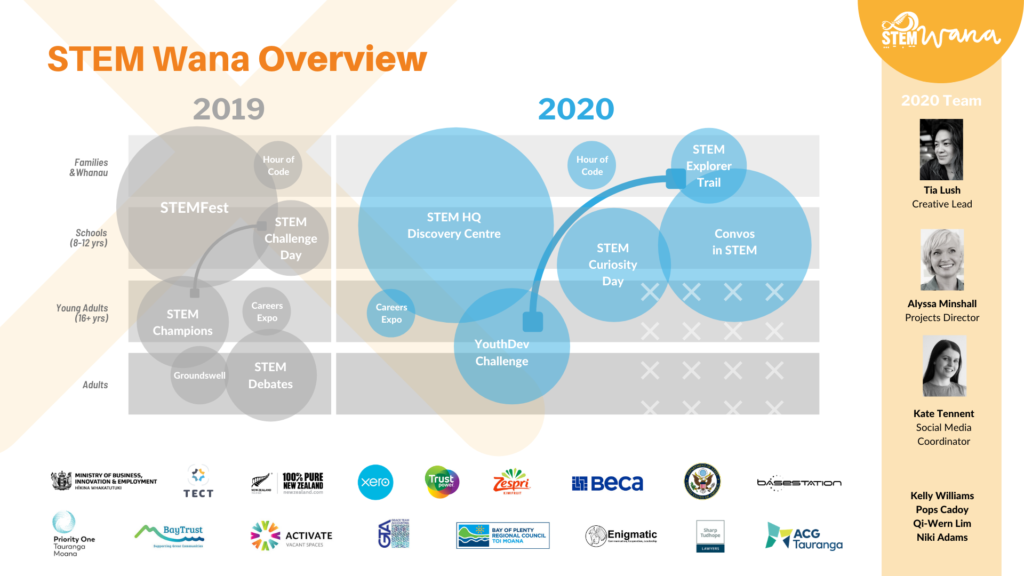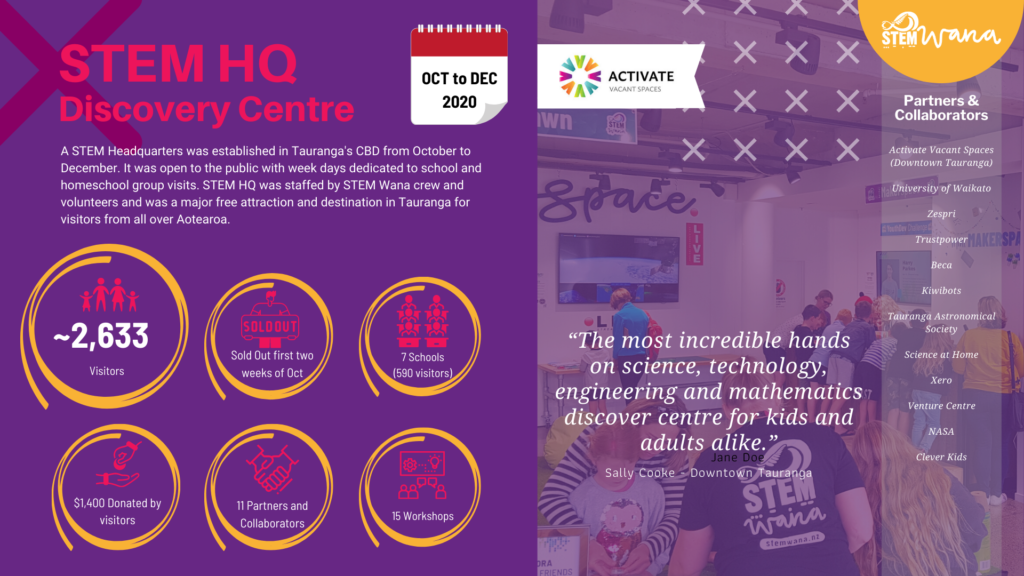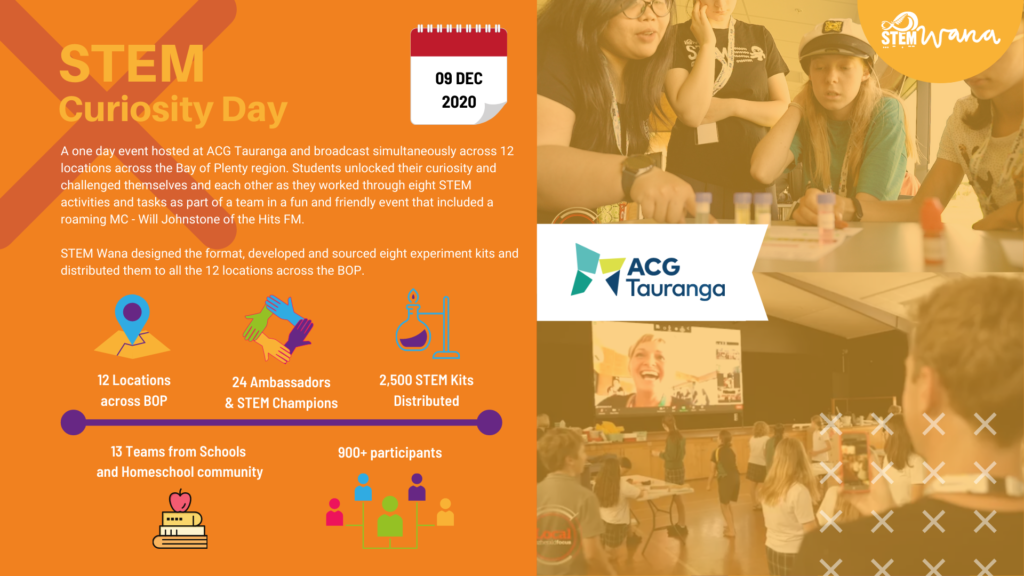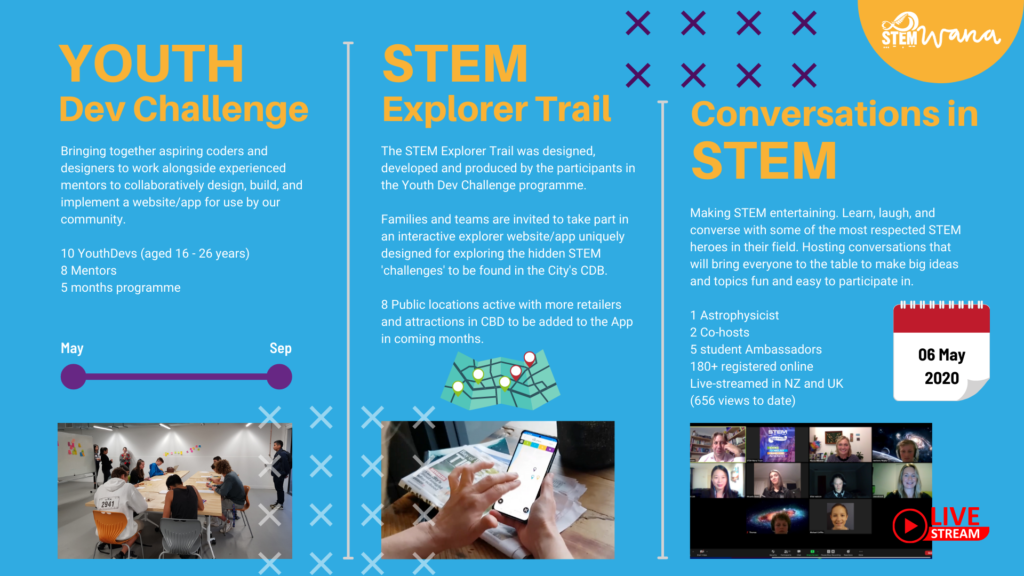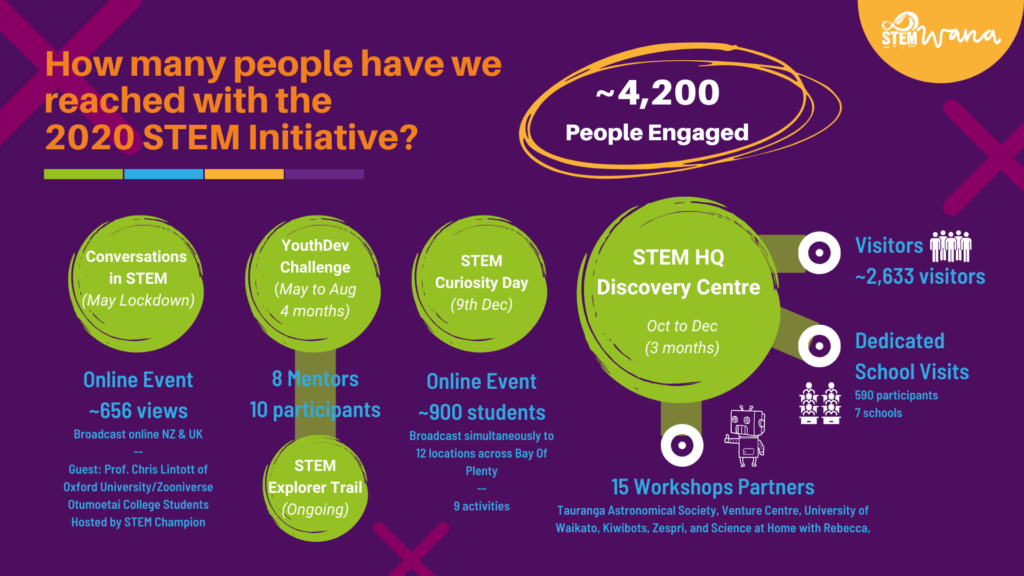 Our work was only able to happen with the generous support of our sponsors and funders, who have proven again that they go above and beyond to ensure that our Initiatives were of the highest possible standard. They have assisted by providing financial support, connections, exhibits, and content. Thank you so much to each and every one of these companies and organisations – ngā mihi!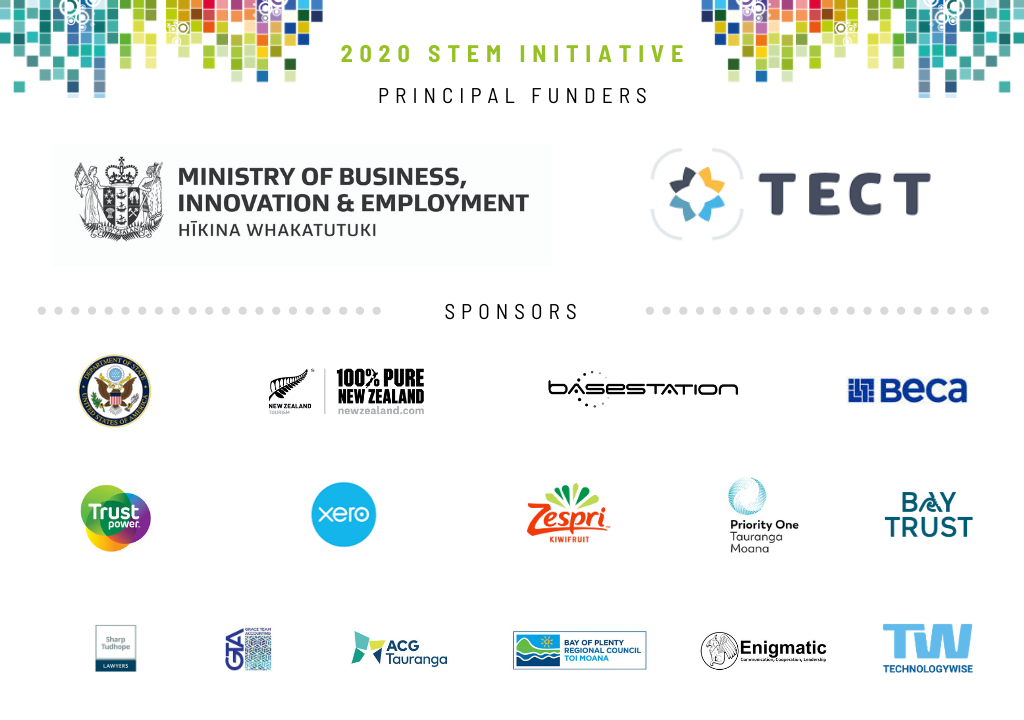 Other thank yous…
We are also very grateful for the help and support of the following organisations without whom we wouldn't have been able to reach over 4,000 people through our initiatives:
Downtown Tauranga – for the physical space for STEM HQ
Kiwibots – for multi-day sell out series of robotic workshops
Venture Centre – for an exciting Hour of Code day
Tauranga Astronomical Society – for delighting our school groups
University of Waikato – amazing science experiments for school groups
Our dedicated team members, Alyssa, Kate, Qi-Wern, Pops, Niki, and Kurt
Our advisors and friends
All our amazing volunteers, of which there are too many to name!
---
What's next?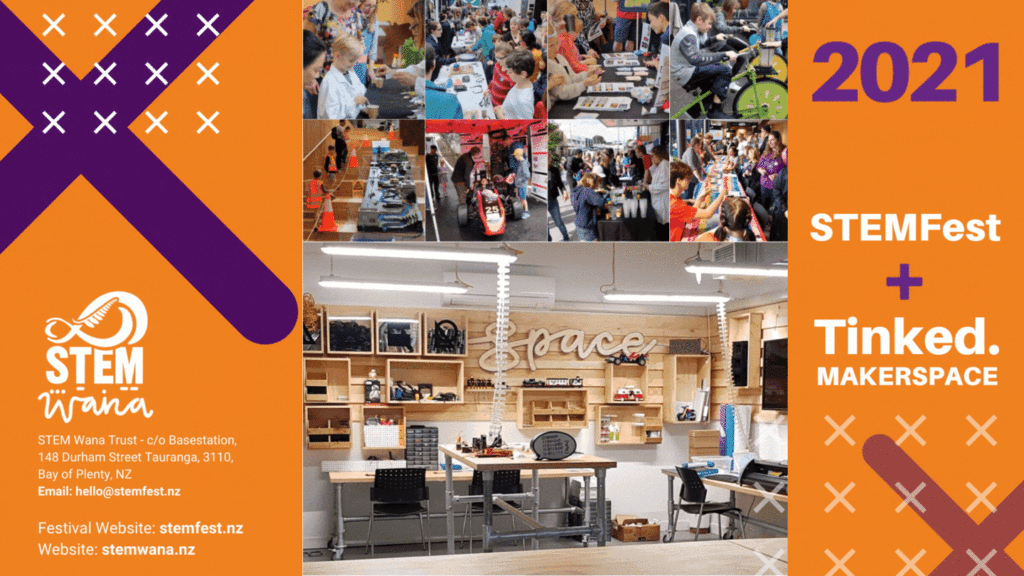 We have started working on our plans for 2021, which includes the exciting STEMFest 2021 happening in the October school holidays.  This year we are adapting some aspects of the event which includes a dedicated International Space Zone and AquaSTEM, as well as putting in place contingency planning around COVID-19.
So if you haven't already subscribed to our mailing list, now is the time to do so to be kept up to date on all ticketing and latest news.
Stay curious!
Tia and the STEM Wana Team.