A recap for our Conversation in STEM with Chris Lintott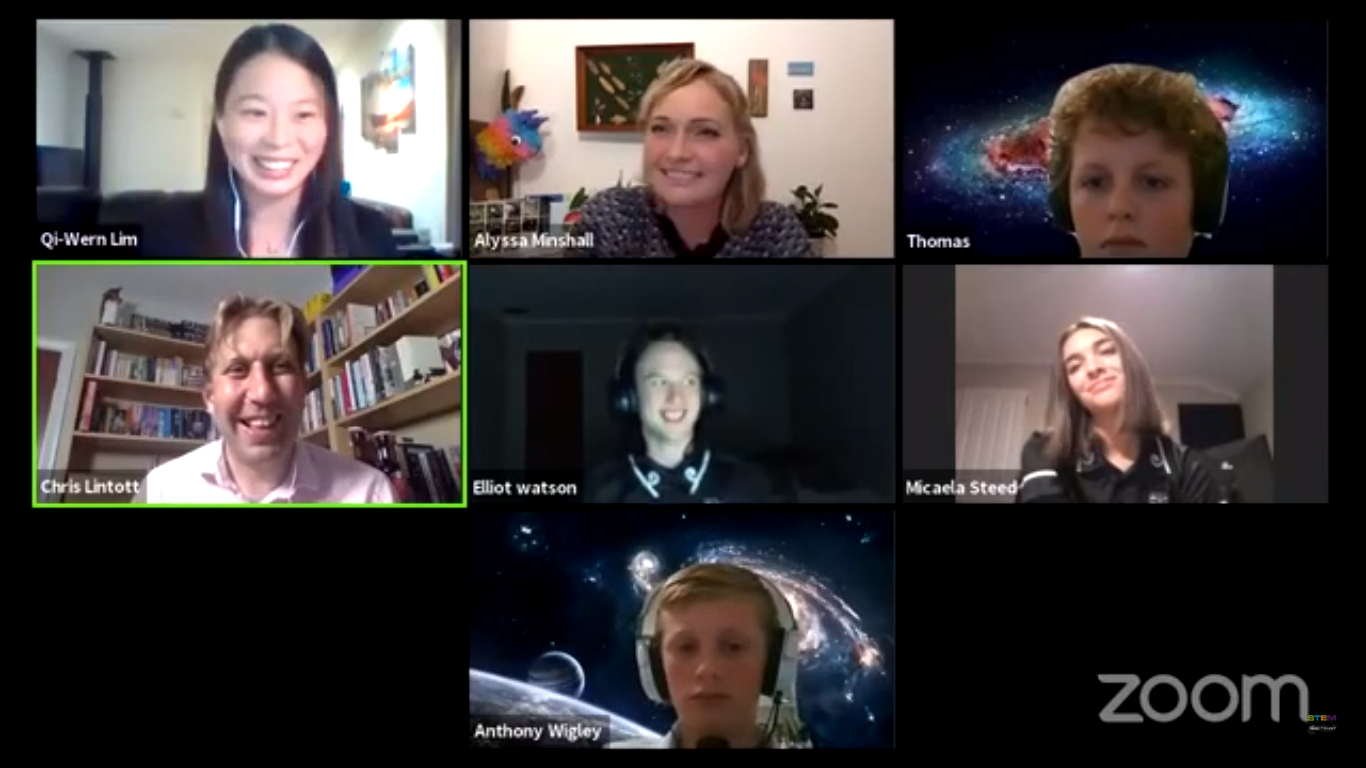 By Qi-Wern Lim – STEM Champion / Aspiring Teacher
Last Wednesday 6th May 2020 I was lucky enough to get to chat with Chris Lintott along with Alyssa Minshall and student ambassadors Micaela, Thomas, Anthony, Michael and Elliot from Otumoetai College. This talk was the first event in the Conversations in STEM series and was organised by the STEM Wana Trust in collaboration with Zooniverse.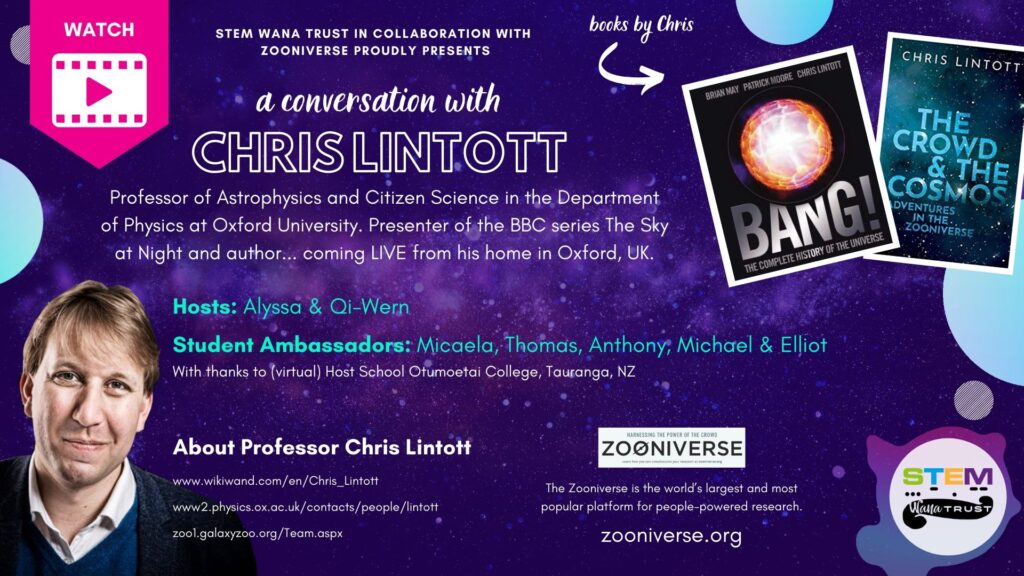 Originally, Chris was invited to take part in the special anniversary tour of New Zealand as part of the Royal Astronomical Society celebrations planned for April and May. STEM Wana Trust had partnered with the Tauranga Astronomical Society and managed to secure a date for Chris to visit Tauranga. Unfortunately, the global pandemic messed up everyone's plans, so instead we organised this talk where Chris joined us remotely from Oxford and we live streamed it to Facebook. It is also available to watch now on YouTube:
Chris is an extremely accomplished and interesting guy. He is Professor of Astrophysics and Citizen Science Lead at the University of Oxford, presenter on the BBC show The Sky at Night (which has just aired its 800th episode), and co-founder of Zooniverse (a people-powered research platform – more on this later). He also co-wrote a book on the history of the universe with Sir Patrick Moore and Brian May (guitarist from Queen). Lucky for us, he is also really nice, friendly and generous with his time!
After our wonderful host Alyssa welcomed us, Chris gave a quick talk to introduce himself, his work and the Zooniverse. We then went straight on to the Q&A session (moderated by yours truly), first with questions from our student ambassadors and then from our audience.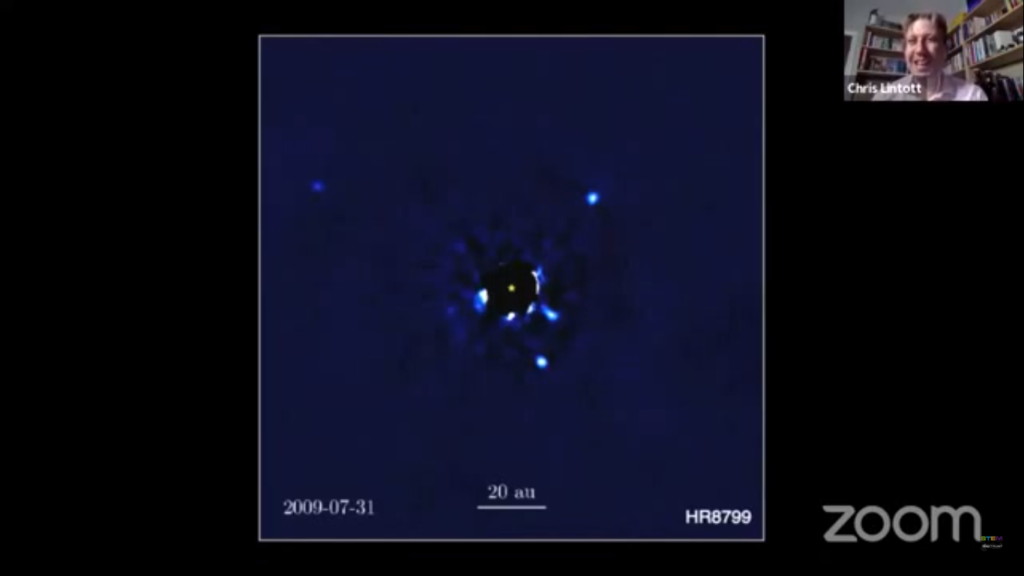 One of the first things I learnt is that there's a telescope in Chile called the Very Large Telescope. Its successor is currently under construction and called the Extremely Large Telescope (I thought he was joking but these are their actual names)! The image above shows planets going around the star called HR8799.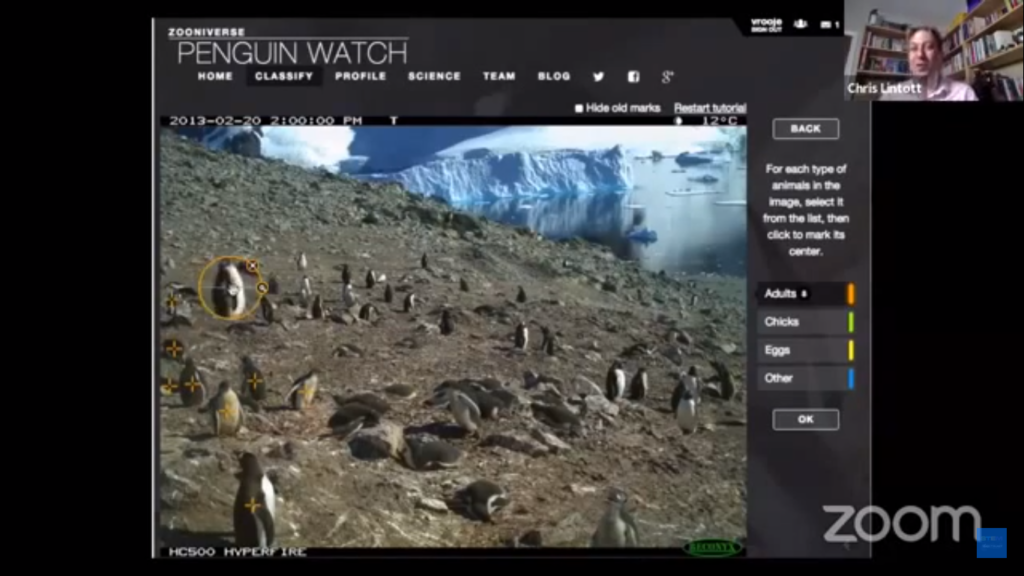 Chris' research is on galaxies and their shapes (which gives us important information about the history of the galaxy). This is why Galaxy Zoo was started. They had a vast number of galaxy images which would take a single researcher years to go through. So they asked the public to help classify galaxies through the Galaxy Zoo website. This turned out to be way more popular than they thought. It lead to the creation of the Zooniverse, a people-powered research platform which now has almost 100 projects on it spanning all disciplines. One of Chris' favourite projects is Penguin Watch (picture above).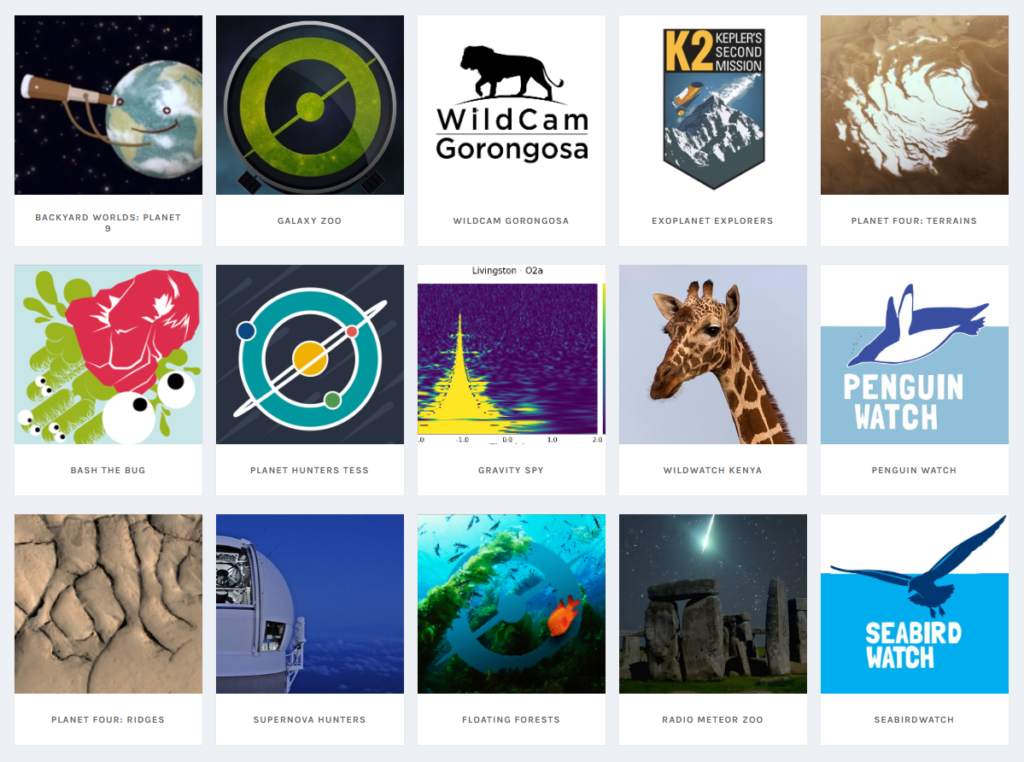 You can get started straight away on Zooniverse without signing in or anything, and the instructions are simple and easy to follow. You don't need any prior training and kids can join in too. We urge everyone to head to Zooniverse and give it a go – pick three projects you like the sound of and spend just 5 minutes on each of these. I think it's really awesome that we can contribute to real scientific research from our own homes.
There is also a Zooniverse Classrooms section for students and teachers (see below).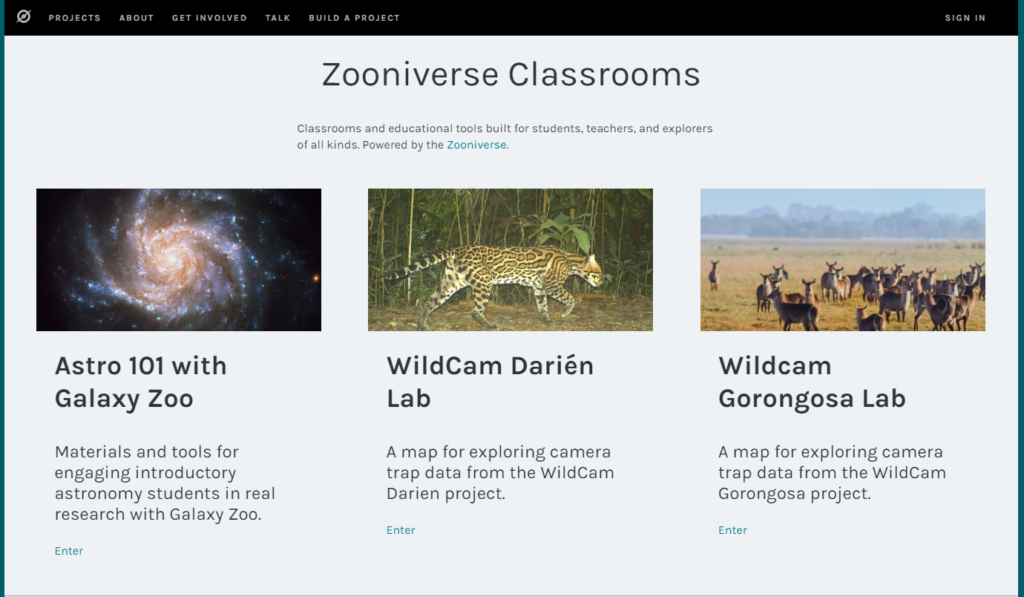 We had great questions from our student ambassadors including what kind of jobs you can get as an astrophysicist, what caused the Big Bang and how long Chris thinks it will be before we can leave Earth and travel throughout the stars.
It was really interesting to hear that there's still a lot that we don't know. We're hoping all the students listening were taking notes because we need them to help figure out the origin of the universe and predict its future! We also heard that there was exciting black hole news coming out later that day…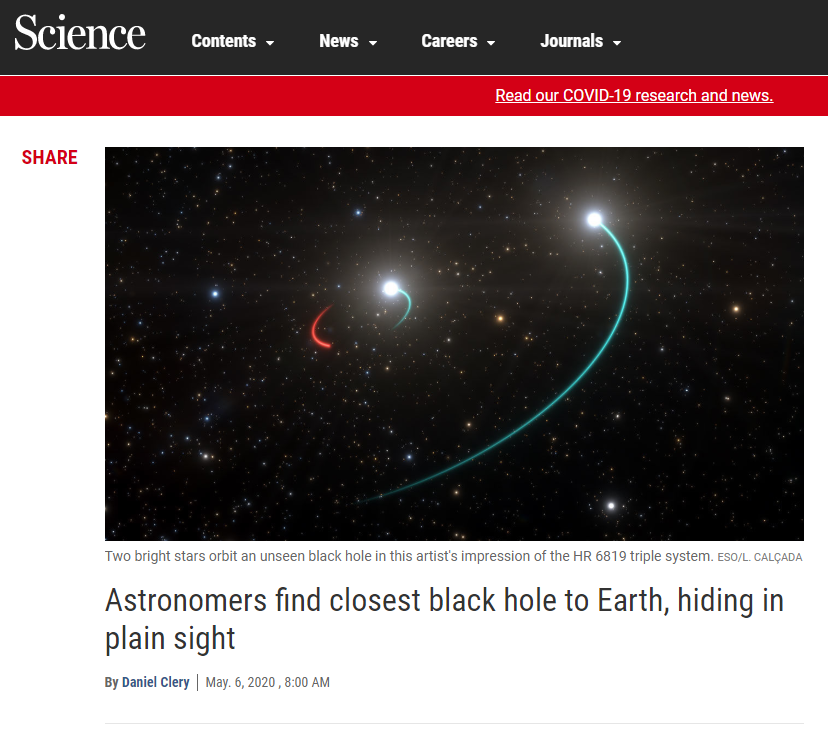 The questions from our audience were also really interesting. These were submitted both before the talk and via the live stream. Thank you so much to everyone who submitted questions. We received so many great ones – it was really hard to pick just a few to ask! The questions ranged from "Are there aliens in the universe?" courtesy of 6 year old Owen, to questions about the James Webb Space Telescope and what Chris thought the next big astrophysics discovery would be.
I'm not going to tell you the answer to these questions – you'll have to watch the video to find out for yourself and hear profound philosophical quotes like the ones below!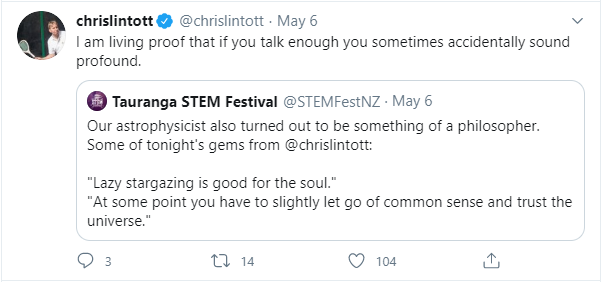 A big thank you to Chris Lintott for joining us from Oxford so early in the morning to answer all our questions.
Thank you to our amazing student ambassadors from Otumoetai College and their teacher Ceri Blears-Woodcock.
Thank you to Tia Lush and Steven Vincent for all your work behind the scenes.
Finally, a huge thank you to our host Alyssa who put in a heap of work behind the scenes, getting everything organised for this event.
I can't wait for the next Conversation in STEM event – this one has definitely set the bar very high!
For more information about Chris Lintott, the Zooniverse and how to get involved in science and astronomy, head to our events page.