STEM "Discovery" HQ sells out all sessions during first week of opening
13 October 2020
• 0 Comment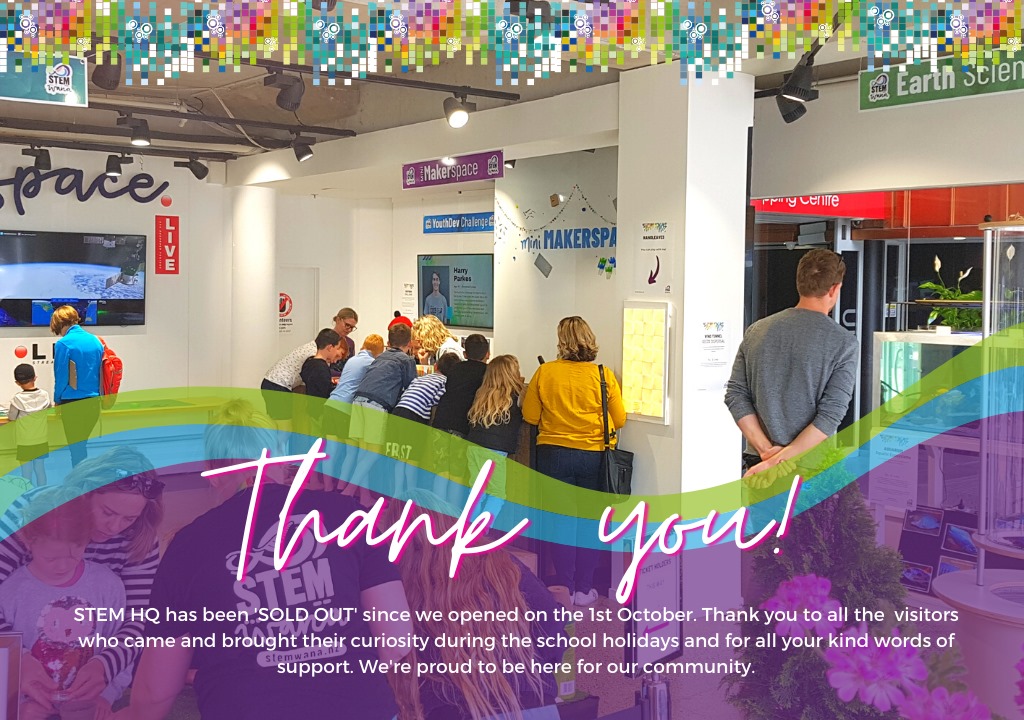 Here is our update following the first two weeks of STEM HQ opening to the public.
Demand for tickets
Much to our delight, tickets to both morning and afternoon sessions 'sold out' for all the dates during the school holidays. Visitor numbers have been on average 92 people per day since our opening on the 1st October. We've had visitors of all ages visiting and enjoying the interactive and hands-on exhibit stations across all seven zones.
There was also quite an interest from visitors to the CBD that found STEM HQ either through exploring the CBD or hearing about STEM HQ from passing guests. On the door ticket requests have continued at a steady rate since the first day of opening. There has also been an influx of inquisitive people coming in to learn more and planning a future visit.
There has been a positive trend of repeat visitors within the first 12 days of opening. These have been family units returning again, different parents returning with children that have previously attended with the other parent or grandparents, and children that came as part of a group and returned with their own siblings and families.
Average number of visitor (from 1st to 12 October) = 92 visitors per day
Total numbers of visitors for period = 800+
Feedback from visitors has been resoundingly positive with many stating that they were excited by having such a wonderful resource for our community and already looking forward to coming back for another visit.
School and Group Visits
There has been a surge in requests from schools, home schools, special needs groups and private corporations inquiring about dedicated, private group sessions. Currently, we have set aside Wednesdays throughout our STEM HQ activation to invite local schools to book field trips to STEM HQ. This includes private access to STEM HQ, a brief introduction, an exploration worksheet, and a mini workshop on 'the lawn'. Due to the high demand of requests we are currently discussing options to include more dedicated dates for groups.
YouthDev Challenge and STEM Explorer Trail
Our amazing YouthDev Challenge programme has wrapped up. We are so grateful to our mentors for their contribution and effort in inspiring and working with our young developers.
Initially scheduled to launch concurrently with STEM HQ, STEM Wana has decided to stagger the roll out of these two initiatives. The STEM Explorer Trail will now have it's own spotlight launch at the beginning of November. STEM Explorer Trail's first set of location stops will include the Library, key landmarks and public spaces within Tauranga's CBD. We will continue to engage and include sponsors, retailers, attractions, and hospitality within the CBD during the time the STEM Explorer Trail is active.
Upcoming Initiatives
Curiosity Day
STEM Wana's second annual dedicated School's event – STEM Curiosity Day (formerly STEM Challenge Day) will be held on 9th December. Our key focus in planning this event was to remain COVID-19 safe, therefore, Curiosity Day will be spread across 15 schools sites with ACG Tauranga (one of our Megabyte sponsors) as the Curiosity Day Hub. We are excited that we have been able to adapt STEM Curiosity Day to accommodate these uncertain times all the while still increasing outreach. Even with new restrictions in place, STEM Wana has been able to increase STEM Curiosity Day's participation availability from last year's 200 participants to now up to 900 participants! All spots have been filled and there is a waitlist in place.
Conversations in STEM
Our upcoming Conversations in STEM is out of this world! Conversations in Space is STEM Wana's next big event. Join us for an evening under the stars at Mt. Drury with the iconic Mauao in the background. Speakers will include a NASA astronaut (via livelink), New Zealand Space Agency and Rocket Lab with a guest appearance from the ISS and Prof. Chris Lintott (pre-recorded). Tauranga Astronomical Society will be on hand to help guide visitors on their journey in star gazing.
Bring a picnic blanket and settle in for a one of a kind event. Food trucks, a large outdoor movie screen, a panel of Space experts and telescopes for viewing will make this a memorable evening.
Coming February 2021. Date to be announced.
Thank you
We would like to thank gigabyte sponsor Trustpower for being our first sponsor on the lawn at STEM HQ during our first weekend and pulling out all the stops, and all the playdoh, to delight visitors during school holidays.
Huge thanks also goes to Gavin at Beca for all his help during set up and for being our 'consulting engineer' on all things to do with pulleys and blocks. Our gigabyte sponsors proving yet again that they go above and beyond to support us.
Newline Tauranga for very kindly donating mirrors that are used as part of our holographic exhibit.
The amazing team at TechnologyWise for providing all IT and technical support and setting up all the awesome technology (including the enormous touch screen) we have at STEM HQ.
Looking forward
We are very grateful for all our funders, sponsors, and partners who have helped us and shared our vision to make STEM HQ a reality and look forward to continuing to work with you to build on this proof of concept for a dedicated and permanent STEM Discovery Centre and Makerspace for Aotearea.
Nga mihi,
Team STEM Wana